As part of the PRICE Logistics Action Team, Melissa King - a Graduate Fellow in preventive conservation from the Winterthur/University of Delaware Program in Art Conservation -  designed and implemented a pan-institutional survey at the Smithsonian of emergency kits designated for collection emergencies.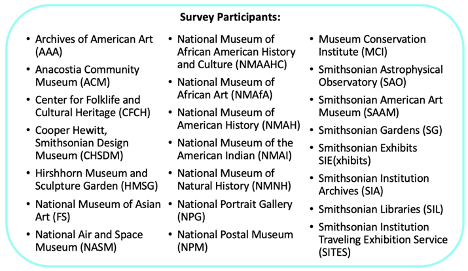 Survey Goals
To create a unified inventory list for all of the

Smithsonian's collection locations that will ultimately be integrated within ArcGIS mapping software. This dataset could serve the entire institution if additional supplies were ever needed in emergencies.

To consider the possibility of bulk ordering supplies for common items to reduce overall costs.

To compile the results from the survey into a document that would help readers understand the current status of collection emergency kit management across the institution, while also creating a snapshot of the variety of supplies contained within them.