Initiated by the findings of an internal collections study of Smithsonian collections in 2005 and the Heritage Health Index nation-wide survey, the Institution renewed its commitment to developing and implementing new strategies aimed to strategically improve collections care and management in a pragmatic manner. To address the challenges and opportunities associated with the management of the national collections, Smithsonian senior leadership established the first-ever Smithsonian Collections Advisory Committee (SCAC).
Chaired by the National Collections Program, SCAC assists in establishing a framework for setting Institutional priorities for collections management and fulfilling defined collections stewardship responsibilities with an integrated, pan-Institutional approach. An active advocate of collections stewardship, the Committee promotes and facilitates pragmatic, professional, and collaborative initiatives to support the Smithsonian's commitment to the care and preservation of Smithsonian collections. Central collections care funding, administered by the National Collections Program and the Smithsonian Collections Advisory Committee, provides critical resources for the highest priority collections management needs throughout the Institution to improve the overall stewardship of Smithsonian collections.
---
Smithsonian Time-Based Media Art | TBMA
The Time-Based Media Art (TMBA) initiative supports the preservation, stewardship, and management of time-based media and digital art across the Institution, developing long-term and comprehensive preservation strategies for time-based art and establishing best practices for the acquisition, documentation, installation, and display of time-based art. Time-Based Media and Digital Art include works of art with technology-based components with a specific duration, including film, video, digital, audio, computer-based, web-based, performance, and installation art, and present unique challenges to traditional conservation, documentation, installation, and acquisition methods.
Pan-Smithsonian Cryo-Initiative | PSCI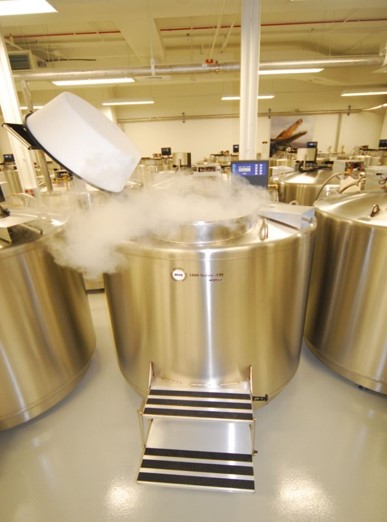 The Pan-Smithsonian Cryo-Initiative (PSCI) promotes collaborative stewardship and access to the Smithsonian's frozen biomaterial collections to preserve biodiversity, advance scholarly knowledge, and improve our understanding of biodiversity genomics, taxonomy, breeding, genetic management, and public health. Cryo-collections include DNA samples, somatic cells, blood products, germ-plasm, embryos, and another animal, plant, and soil products stored at ultra-low temperatures.
In 2007, the Smithsonian established the PSCI, a partnership between the National Zoological Park / Smithsonian Conservation Biology Institute, National Museum of Natural History, Smithsonian Tropical Research Institute, and the Smithsonian Environmental Research Center, to optimize management, care, and accessibility of Smithsonian frozen scientific collections. In 2009, a biorepository at the Smithsonian's Museum Support Center was completed, a centralized storage facility of some 20 liquid nitrogen tanks and 58 electrical coolers, making it the largest existing museum-based frozen storage facility. Working together, the PSCI is defining frozen collections stewardship, leveraging the shared expertise and resources dispersed across the Smithsonian to support an integrated and efficient approach to the curation and data sharing of approximately 1.2+ million samples from more than 18,000 species to ensure their accessibility for scientific research worldwide.
---
Collections and Digitization Assessment
Developing, implementing, and managing an effective strategy for addressing Smithsonian collections challenges is depending upon having a coordinated, pan-Institutional approach to assessing and reporting those challenges and needs. Together, the Collections and Digitization Reporting System (CDRS) and the Collections Space System (CSS) provide robust Institution-wide data on the physical condition, state of digitization, and collections space conditions to inform decision-making, establish priorities, and provide a practical framework for the allocation of resources.
Collections and Digitization Reporting System | CDRS
In collaboration with the Digitization Program Office (DPO), the National Collections Program co-administers the Collections and Digitization Reporting System (CDRS) to facilitate coordinated, efficient input of collections data across the Institution. The information gathered by CDRS contextualizes collections to aid in setting priorities, inform unit collections stewardship planning, and measure progress towards providing standards of care and access to collections. CDRS is also the primary data gathering source for the Smithsonian's annual collections statistics, which documents acquisitions, deaccessions, loans, reference inquiries, and visitors of collections.
Collections Space System | CSS
Partnering with Smithsonian Facilities (SF), the National Collections Program co-administers the Collections Space System (CSS) to collect data on existing collections space conditions across the Institution. Data gathered by the CSS documents the physical state of collections space through the categories of construction, environment, storage equipment, fire safety, and security to inform short and long-term facilities capital, real estate, and collections care projects.